Route 66 Network
Wherever the road takes you...You can count on us.
Humphrey RV Center is a proud member of the ROUTE 66 RV Network, which has paired with RV Care in Canada to create the largest RV Dealer Network in North America. When you purchase an RV from an ROUTE 66/RV Care dealership, you know to expect the best. From the moment you start shopping for your next RV to the annual service after you purchase, we make a promise to you that you will receive the best care from our dealerships. And, if you find that you need help while traveling, rest assured knowing that one of our over 200 dealership locations will have you covered.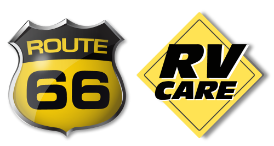 Our Customer Care Promises To You
When you purchase your RV from any ROUTE 66/RV Care Network
dealerships, and while you are traveling, you can expect the following:
Receive a 10% discount on parts and accessories at any ROUTE 66/RV Care Parts Store
(Not including service, special orders or sales parts)
While you are traveling, the closest ROUTE 66/RV Care dealership will make every effort to diagnose your problem within one service day and place your RV in an expedited service schedule
Quickly locate parts from within our network if not on hand
Assist you in securing transportation and accommodations when your RV is in service
Make arrangements at another service provider if we are unable to perform the required repairs
Treat you like a preferred customer at all ROUTE 66/RV Care Dealerships

Get Exclusive Savings and Benefits With an RV Club Membership
As an RV Club member, you can speak with a certified RV technician 24/7 to diagnose problems with your RV and get direction for a do-it-yourself repair without visiting a dealership's service department. Additionally, enjoy thousands of specially negotiated ways to shop, travel, explore and enhance your RVing lifestyle.
In addition to the RV Club benefits, RV Club Unlimited members can enjoy peace of mind with the RV industry's best value Roadside Assistance – not only for your RV, but for every vehicle in your household.*
*Some Restrictions May Apply